Valentine's Day is upon us, and if national surveys are any indicator, more than half of our Adult Drivers Ed users will celebrate the holiday this year. And while we've given you the keys to the road, it's now up to you to earn the keys to their heart this February 14.
Our recommendation for a unique Valentine's gift for him or her? A weekend getaway to one of these charming Texas locales. We've picked our 12 favorite romantic spots across the state, from quaint bed and breakfasts, to luxurious resorts, and everything in between. (Getaways are ranked in no particular order.) Start planning your trip — these getaways are just a few hours drive from your hometown, but a sweet escape from everyday life. Commence falling in love.
* Note, due to limited space, some venues may be booked for Valentine's weekend. That doesn't mean you can't plan a sappy staycation for another time!
1. CAMP LUCY, DRIPPING SPRINGS
Located in heart of Hill Country, Camp Lucy in Dripping Springs provides a unique Valentine's experience to travelers from across the state. On site, enjoy picturesque cottages, complimentary breakfast, hiking and biking, and s'mores around the campfire. Nearby entertainment doesn't disappoint with a host of wineries, breweries and olive orchards within minutes of the camp. After one sip of vino on a rustic patio, you'll see Dripping Springs is truly the Tuscany of Texas. Romeo, meet Juliet.
From Austin: 44 minutes
From San Antonio: 1 hour and 26 minutes
From Houston: 3 hours and 8 minutes
Song for Your Road Trip Playlist: "Strawberry Wine" by Deana Carter to prep for your wine-filled weekend
Whether you want to stay warm and dry by the fireplace, or go for a dip in your own private jacuzzi, you can do both at Paniolo Ranch, an upscale bed and breakfast located on 100 acres of green in Boerne, Texas. Throughout your stay, enjoy sweeping views of the property, surrounding wildlife and brilliant night sky unobstructed by city lights. During the day, take your Valentine to Boerne for antiques, art galleries, wine and thrift shops. A hunk, a hunk of Boerne-ing love.
From  San Antonio: 55 minutes
From Austin: 1 hour and 30 minutes
From Corpus Christi: 2 hours and 57 minutes
Song for Your Road Trip Playlist: "Forever and Ever, Amen" by Randy Travis to set the mood for your country getaway
Prefer more rural lodging for you and your sweetheart? Southern Rose Ranch has exactly what your heart desires. Wake up to views of green pastures followed by a breakfast of farm-fresh eggs in the outdoor kitchen. The inn also provides a special package for couples that includes champagne, roses and chocolate-covered strawberries. Heavenly. For date night, drive into nearby Brenham, where you can go antiquing, peruse art galleries and enjoy community theatre. The sweet life.
From Houston: 1 hour and 7 minutes
From Austin: 1 hour and 43 minutes
From Nacogdoches: 2 hours and 49 minutes
Song for Your Road Trip Playlist: "You Make Loving Fun" by Fleetwood Mac for the kind of windows-down road trip to small-town Texas that you've been seeking
Is San Antonio the most lovey-dovey city in America? It is, according to an Amazon survey that ranked cities by the romantic products purchased there. But if you want to buy your significant other something more special than a box of chocolates, we suggest booking a room at Alamo City's own Hill Country Resort and Spa. The hotel offers Valentine's activities for couples like golf and therapeutic massages, and at night the two of you can head down to San Antonio's River Walk for a hand-and-hand stroll. That's amore.
From Laredo: 2 hours and 24 minutes
From Houston: 3 hours and 4 minutes
From McAllen: 4 hours and 12 minutes
Song for Your Road Trip Playlist: "New San Antonio Rose" by Bob Wills & His Texas Playboys to get into that San Antone state of mind
Nestled on 38 verdant acres, Rose Hill Manor is to Texas as Tara Plantation is to Georgia. Guests have their pick between suites with French doors and large verandas or cottages with fireplaces and jacuzzis. Tough choice, right? While you're not soaking up the sun on the manor's terrace, take a tour along the 290 Wine Trail, which includes Pedernales Cellars, just a few steps outside Rose Hill's walls. Travel into nearby historic Fredericksburg for art, shopping and live entertainment. Bring the Rhett Butler to your Scarlett O'Hara.
From Austin: 1 hour and 19 minutes
From San Angelo: 2 hours and 39 minutes
From Dallas: 3 hours and 58 minutes
Song for Your Road Trip Playlist: "You Are the Sunshine of My Life" by Stevie Wonder to bring a smile to your face as you roll into sunny Stonewall
A secluded paradise in the Big Bend region, Lajitas Golf Resort is utopia for couples who love outdoor adventure. Play a round at the resort's golf course, known as the best in Texas; zipline over a canyon; or bike through the breathtaking West Texas backcountry. Afterwards, relax at the hotel's "desert oasis" spa or grab a drink at the Thirsty Goat Saloon (named for the town's former mayor, an actual goat who loved beer.) Yep, you're really in the wilderness at Lajitas.
From Odessa: 3 hours and 59 minutes
From El Paso: 5 hours and 8 minutes
Song for Your Road Trip Playlist: "Amarillo by Morning" by George Straight for the ultimate sing-a-long in the spirit of West Texas
Even if you live in San Antonio, a stay at La Cantera Resort will make you feel a world away. Whether you want a private "casita," with an expansive parlor, or suite with views of Hill Country and the city skyline, the choice is yours. Indulge in unique Valentine's Day activities at the resort, including drinks at your own cabana or a "party on the patio," complete with a toasty fire pit. The hotel also offers several Valentine's Day specials. Ooh la la. 
From Austin: 1 hour and 41 minutes
From Laredo: 2 hours and 41 minutes
From Dallas: 4 hours and 28 minutes
Song for Your Road Trip Playlist: "I Could Fall in Love" by Selena to pay tribute to the Queen of Tejano
Located on beautiful Lake Travis, Lakeway Resort is a haven in Central Texas for couples who need a weekend to unwind. Start Valentine's Day with breakfast in bed, followed by up to four hours of spa treatment, and finish the day at Lakeway's "rustic chic" restaurant. With the water nearby, you can also rent a boat and explore 270 miles of lakeshore. Fingers crossed the warm weather continues! If not, there's always the hot tub.
From Waco: 2 hours and 3 minutes
From Abilene: 3 hours and 31 minutes
From Corpus Christi: 3 hours and 58 minutes
Song for Your Road Trip Playlist: "Crazy Little Thing Called Love" by Queen because Freddie Mercury was inspired to write it while sitting in the tub — something you'll be doing all weekend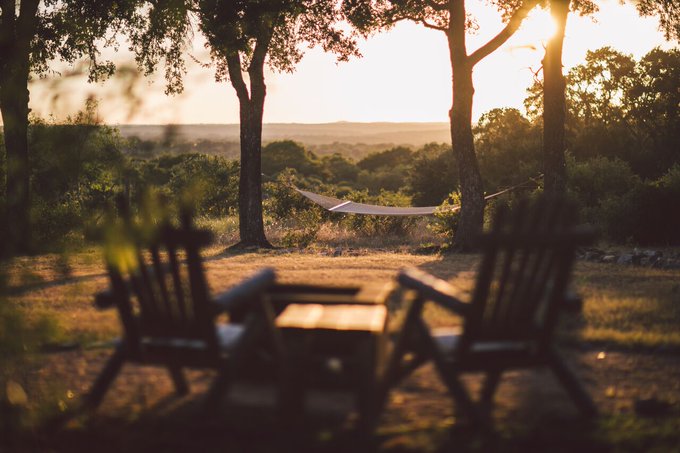 Inside your room at Sage Hill Inn, you'll find contemporary furnishings like whirlpool tubs and limestone fireplaces. On the grounds of the resort, however, guests can enjoy more pastoral pleasures, from playing horseshoes, to stargazing, to hiking the Onion Creek area. And when you need to be pampered, walk over to Sage Hill's spa for treatments, including mud masks and aromatherapy. Inhale, exhale. Need we mention the hotel has an "endless supply of home-made cookies" in the dining room?!? Good golly.
From Austin: 44 minutes
From San Antonio: 1 hour and 14 minutes
From Dallas: 3 hours and 26 minutes
Song for Your Road Trip Playlist: "Try a Little Tenderness" by Otis Redding to set the tone for a long weekend filled with pampering and soothing spa treatments
If your idea of a perfect Valentine's Day retreat includes meeting new friends, then drive out to West Texas for a weekend at Eve's Garden Bed and Breakfast. At the remote inn, you'll meet resident dog Bubbles and his kind humans who work there. (But seriously, Bubbles is really cute.) Throughout your stay, enjoy Eve's amenities, including organic indoor gardens, a sparkling reflection pool and vibrant papercrete architecture. In the morning, feast on a gourmet breakfast with organic coffee (a guest favorite), and at night, swap stories with other visitors around the fire pit or relax on the stargazing deck. Bubbles will be there.
From Odessa: 2 hours and 7 minutes
From El Paso: 3 hours and 46 minutes
Song for Your Road Trip Playlist: "Life on Mars" by Seu Jorge to get ready for a vacation away from the rest of civilization
Spanish-style haciendas. Panoramas of the Texas foothills. Food from the only Forbes 5-star restaurant in the state. What more could you want in a Valentine's vacation? Perhaps carriage tours of a historic ranch, organic farming lessons or horseback riding at one of the largest equestrian centers in Texas? It's all available at Dos Brisas in Washington, a luxury resort that will have you falling head over heels. Room for dos, please. 
From Houston: 1 hour and 14 minutes
From Waco: 2 hours and 6 minutes
From San Antonio: 2 hours and 44 minutes
Song for Your Road Trip Playlist: "Wild Horses" by The Rolling Stones to chill you out before you arrive at your horse-filled haven
Note: Travaasa, Austin is currently closed for renovation and should re-open sometime in 2019.
If a couple's massage followed by a hot tub soak strikes your fancy, look no further than Travaasa Austin, a world-class resort and spa that is sure to capture your Valentine's heart. From bedrooms with canopy views, to sunrise hikes and farm-to-table dining, this resort offers a far superior alternative to traditional Valentine's dates. After all, there's a reason the hotel calls its couple's package the "I don't wanna go home." Monday is going to be rough after a few days spent in Travaasa's year-round infinity pool that overlooks a stunning mountainous landscape. Deep sigh.
From San Antonio: 1 hour and 54 minutes
From Houston: 2 hours and 53 minutes
From Corpus Christi: 3 hours and 39 minutes
Song for Your Road Trip Playlist: "Falling Slowly" by Glen Hansgard and Marketa Irglova to help you unwind during your weekend of relaxation