Real evergreens and artificial trees aren't the only Christmas tree options available. Check out these alternative holiday trees that are far from the ordinary.
Chalkboard Tree
Kids will love seeing their handmade ornaments and decorations used at Christmas. This colorful yarn garland is fun and simple to make for kids of all ages. String it across a flat, graphic chalkboard tree for extra wow factor.
Copper + Wood Tree
This adorable alternative is the perfect solution, taking up very little floor space and coming to the rescue year after year.
Wooden Card Display
Showcase holiday cards and wrapped presents with this easy-to-make alternative version constructed from plywood.
Nailhead Trim
These nailhead trim trees are fun in the daytime but look breathtaking when silhouetted at night.
Terra-Cotta Tree
A stack of pots, rope and some ornaments make up this charming holiday decoration.
Keep creating Christmas trees for your home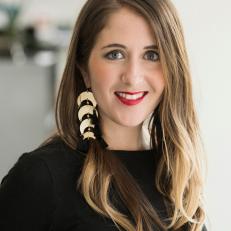 Kayla is a managing editor for HGTV.com and TravelChannel.com. Kayla resides in a charming, 70-year-old home in East Atlanta Village with her husband and two adopted cats. When she's not writing, you can find her walking the BeltLine in search of food, playing on Edgewood Avenue or drinking a glass of wine at a weekend festival.