Garages are often thought of as dark, dingy places that collect dirt from your car and are difficult to keep clean. However, with a little bit of work, and the best garage floor, you can create an innovative garage that you will actually want to spend time in.
One of the most important parts of transforming your garage is flooring. Most garages have floors made of concrete that are traps for dirt. As your car comes in from outside, grime, mud, and salt that was on your tires get tracked onto your garage floors. And don't forget about oil drips, chemicals, and moisture. And the worst part is, there's no easy way to clean it and prevent stains and deterioration. However, there are a lot of garage floor options that can make a huge difference.
The three most common types of garage floors are garage floor coatings including paint and 2-part epoxy coatings, garage floor tiles and garage floor mats.  Here's how to select the best option for your garage floor makeover.
Best Garage Floor Coatings: Paint, Stain or Sealers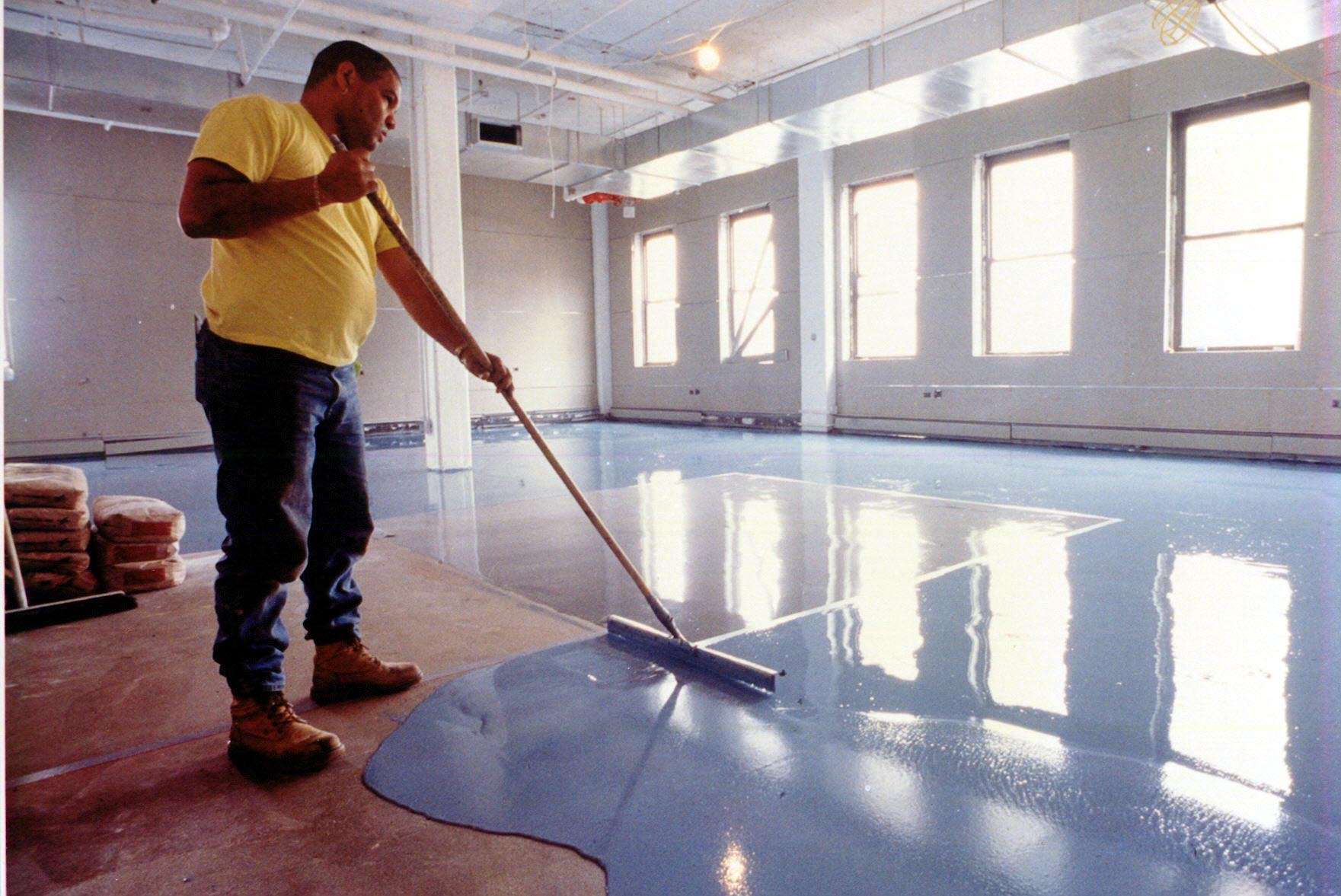 Garage floor coatings include a variety of garage floor options like garage floor paint and epoxy coatings, as well as concrete stains and sealants. These tend to be a less expensive solution, especially if you decide to do the project yourself. Coatings can protect against corrosive elements like road salt, stains from oil, and moisture damage, but if you have moisture beneath the concrete, a coating may not stick to the floor.
One important difference between garage floor coatings and using tiles or mats, is the need for surface preparation.  Preparing the old surface to accept the new paint or coating can include everything from basic cleaning to renting a concrete grinder to literally grind away the old surface.  Your prep will also require repair of any cracks in the concrete or other surface deterioration.
---
We love epoxy coatings because they are far tougher than any other type of floor coating and will not chip or peel away. Epoxy can be easily wiped clean and will stand up to a lot of abuse, which is why this is by far the preferred coating to use.  They're also available in a wider range of colors and many offer "color chips" that can be added to the surface which creates an attractive finish and helps hide the dirt.  If you're looking for a glossy "showroom shine" you can also add a clear coat of epoxy to the surface for added protection and a spectacular look.
Keep in mind that epoxy is similar to a normal paint, with a key difference.  Epoxy garage floor coatings come in two separate containers, with one being the base and the other the hardener.  Once mixed, a chemical reaction occurs and the paint begins to harden.  Because of this, you need to plan your project carefully.  If you mix up too much at once, it's going to harden inside the can and become totally useless!
---
Garage floor paint (including 1-part epoxy) is the most inexpensive choice in garage floor coatings.  It comes in latex or oil varieties and doesn't stand up nearly as well as two-part epoxy coatings.  However, if you don't anticipate being in your home more than a few years, it might be a perfectly fine short term solution, even though it may need to to be touched up occasionally.
Concrete stain is a decorative product that can improve the look of your garage floor.  However, it does not provide a protective coating like the garage floor paints described above.  Concrete stains react uniquely with the concrete and are best used on new concrete surfaces that have not absorbed dirt, oil or other debris. If you like the look of concrete stain, keep in mind that you will definitely need to add a protective coat on top of the stained surface, such as a clear epoxy finish to provide the durability a garage floor demands.
Concrete sealers are not designed to be a protective finish and therefore not recommended as an a garage floor coating. Sealers will reduce the absorption qualities of concrete, which can be helpful in some garage or exterior applications.  However, sealers have literally no ability to stand up to normal wear and tear and hence won't provide any long term protection against dirt or spills. While applying a concrete sealers offer a clean look, they're not as tough as other options, and won't stand up to hard use.