RICH IN HISTORY
Fair Park, a National Historic Landmark and site of the 1936 Texas Centennial Exhibition, is home to some of Dallas' best museums, educational discovery centers, and the world's largest collection of Art Deco exhibit buildings, art, and sculptures. While at the Fair Park during the State Fair of Texas, be sure to visit one of the many points of interest located in the historic 277-acre park.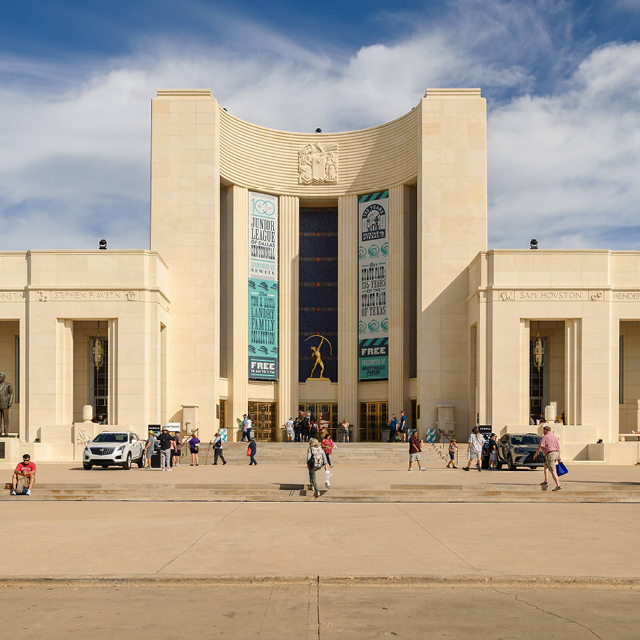 HALL OF STATE
Originally called the State of Texas building, the Hall of State debuted in 1936 as part of the Texas Centennial Exhibition. Crafted from Texas limestone, The Hall of State, at a cost of $1.2 million, was the most expensive building per square foot built in Texas at the time.
AFRICAN AMERICAN MUSEUM
Home to one of the largest collections of African American folk art in the United States, the museum also showcases African American fine art, traditional African art and historical artifacts dating back to the 1800s.
CHILDREN'S AQUARIUM AT FAIR PARK
The Children's Aquarium has been designed with kids in mind. With eye-level interactive zones and exhibits, everyone can enjoy and learn something new about our aquatic friends from around the world.
TEXAS DISCOVERY GARDENS
Texas Discovery Gardens' mission is to teach effective ways to restore, conserve, and preserve nature in the urban environment, with a focus on organic and sustainable gardening. The garden also houses thousands of unique butterflies in an enclosed environment designed to educate young and old alike.
LONE STAR NATURE ARTS COMPETITION GALLERY
Competition-winning entries in paint, sculpture, wood carving, photography, and more will be on display exclusively during the run of the 2018 State Fair of Texas. In addition, Texas Discovery Gardens has added a Natural Playscape and Eco Discovery Tour. Enjoy playing outside and learning about our natural world. Stops include a leaf ID area, bark rubbing station, sand pit, rope ladder, swing bridge, and rock climbing wall.
MUSIC HALL AT FAIR PARK
The Music Hall at Fair Park is open to visitors during the State Fair. Visitors are able to wander through the lobby to view memorabilia, purchase snacks and drinks, and buy tickets for upcoming events.
HOURS:
Monday – Thursday: 10 a.m. – 5:45 p.m.
Friday – Saturday: 10 a.m. – 8 p.m.
Sunday 10 a.m. – 5 p.m.
TEXAS VIETNAM VETERANS MEMORIAL
Paying tribute to our brave veterans, five tablets of Texas granite are inscribed with the names of Texans killed or missing in action during the Vietnam War. Visitors can place American flags next to the names of soldiers they wish to honor. Nine recipients of the Congressional Medal of Honor are among those memorialized. The inscriptions include Congressional Medal of Honor recipients.
CONTINENTAL DAR HOUSE
Home to the Jane Douglas Chapter of the Daughters of the American Revolution, this landmark building first opened its doors in 1936 at the Texas Centennial Exposition. Visitors learn about history, conservation, literacy, and genealogy through exhibits, artifacts, posters, brochures, flag displays, patriotic videos and music.